Borderlands 3 – Top 10 DLC 1 Legendary Weapon Locations Highly Droppable (MUST GO & TRY)
Boderlands 3 is one of the best games ever create. Whether you are a First Person Shooter or not!, Boderlands 3 is going to get you hooked because the game is just so much fun to play.
Thanks to our friend TwoDynamic The weapon locations in the game are clearly stated in his channel and we have taken the list from his selections.
The new Boderlands 3 DLC 1 has just been released and here's what you can get in the DLC. In terms of legendary weapons, here are some of the top 10 DLC 1 weapons.
10. LUCKY 7
The first weapon that you can get is the Lucky 7. It's a legendary pistol which is manufactured by Jacobs. After using it for some time, there is no doubt that this weapon is one of the best weapons in the game.
To get this weapon, you have to get it from a boss fight with the Scraptrap Prime in the Compactor region in the Handsome Jackpot. In terms of drop rate, you can get this weapon very easily on the first go however, sometimes you might need to defeat the boss a second time but you will definitely get it on your second try.
The boss fight with Scraptrap Prime is very easy and it shouldn't be very difficult for you to defeat the boss. The weapon should drop from the boss and once you see it you can pick it up.
Now let's talk about what the weapon does.
The Lucky 7 is a legendary pistol that has 13 rounds of bullet per reload. It looks like a normal pistol without any effect but here's the unique thing about the pistol. The pistol as the name suggests works like a slot machine.
This means that it has five bonuses and each one is different. Each time you reload, it will load a random different bonus with a thrash symbol that represents no bonus. The bonus will pop up for a second on the screen so you have to be quick to see which one you got.
Three bullets : If you get this one, it will make your pistol full auto.
Head symbol : It will give your gun a critical damage to any part of the body.
Nuke symbol : If you get this symbol, it will make your weapon have explosives an all rounds.
Fire, shock symbol: It will give your weapon, all the elemental damage.
7 symbol: It will give your weapon, 7 bullets per shot that can be really powerful.
However, when you roll a thrash symbol which means no bonus, the weapon is not powerful at all. But I think that's the best thing about the pistol as it makes the weapon really fun and unique and if you do manage to roll a full house, it does a lot of damage.
Red Text : O Fortuna
Overall it's fun to play with this weapon and it's amazing and it's got amazing stats. It definitely worth farming this legendary pistol.
9. ION CANNON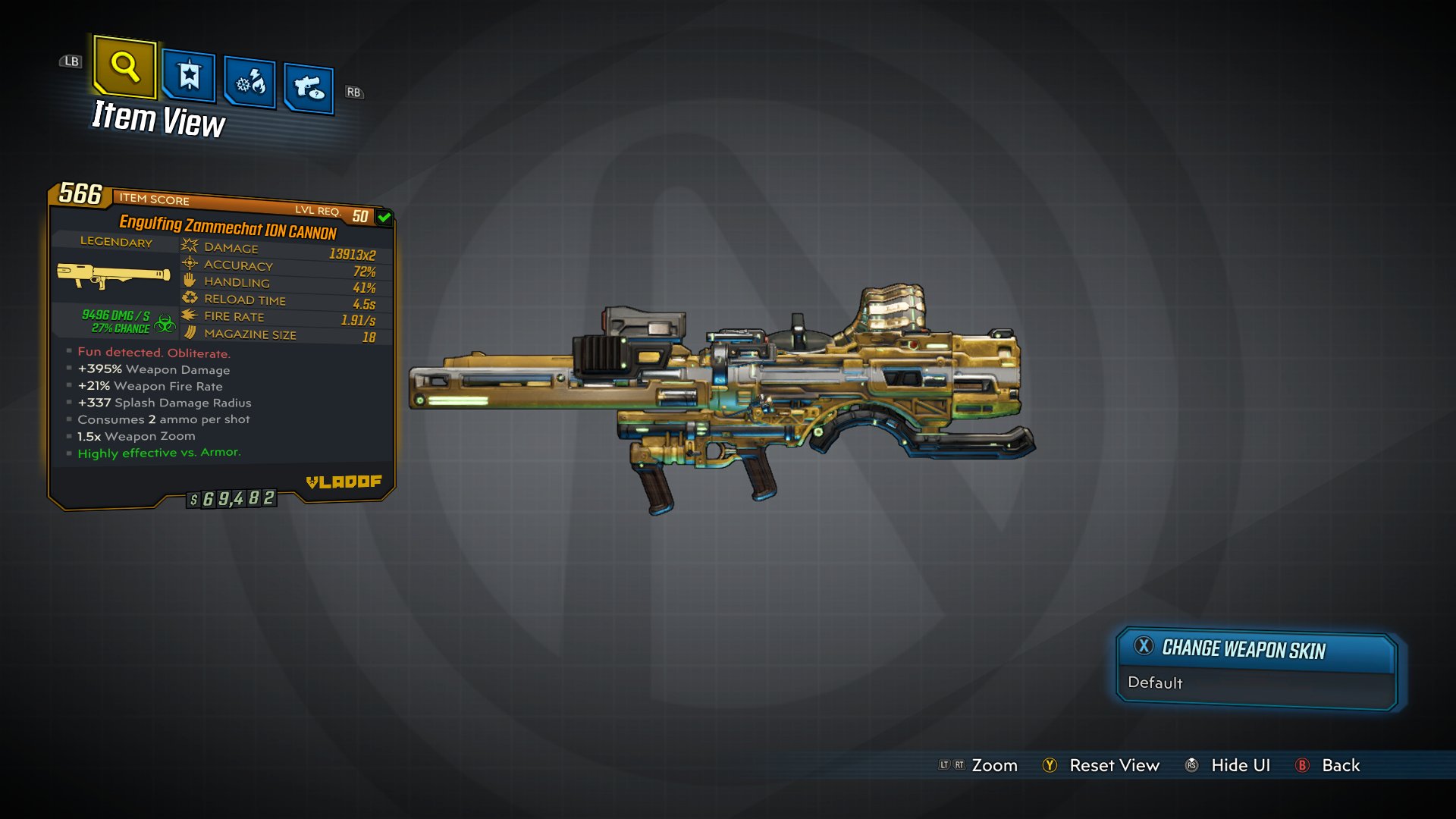 The next weapon on the list is the Ion Cannon. It is a rocket launcher that is manufactured by Vladof. This weapon would drop from a boss fight with Fabricator Mk II who is located in the Jack's secret in the Handsome Jackpot.
The drop rate of the Ion cannon is really high and this is in game story mission so you will definitely come across this weapon in the game.
The weapon consumes 2 ammo per shot. The weapon has a seriously high base damage of upto 500% which is seen in the weapon description. The specialty of this weapon is that it's got a really high accuracy for a rocket launcher. Most rocket launchers have high damage but it's really hard to aim and shoot.
Whereas this rocket launcher shoots like a beam and it also has a charge time and you can easily on hit kill mobs with this weapon. It works like a sniper rifle and even if you are very far away from an enemy, you will have no problem killing them.
There is also a 2X variant of this ion cannon which is quite rare to find but if you can manage to get it, you got the best rocket launcher in the game.
Red Text: Fun detected, Obliterate
Over all this weapon is a must have in your weapon arsenal and it if you need a launcher, it's this one.
8. NUKEM
Taking about rocket launcher, the next deadly one is the Nukem. It is a legendary rocket launcher manufactured by Torgue. It is a returning rocket launcher from Boderlands 2.
In terms of where you can find this weapon, you can get the Nukem from pretty much anywhere in Boderlands 3. Especially from the boss Loco Chantelle in VIP tower.
The speciality of this weapon is that it has some really amazing splash damage. It basically shoots motor rockets that end with huge explosion similar to how a nuclear explosion takes place. Given that this weapon has insane splash damage, you can easily damage multiple enemies with on hit.
However, it isn't as powerful as the Ion cannon but the Nukem is one of the good rocket launchers in the game to kill multiple mobs at one go.
As you can see from the stats, its got a whooping 1200 splash damage which is really.
Red Text: Name Dropper
Overall, the weapon is a really good pick if you are entering areas where you will find lots of mobs to deal with and it is a very good launcher to keep in your arsenal until you get the Ion Cannon.
7. Embers Purge
Ember's Purge is a legendary submachine gun in Borderlands 3 manufactured by Maliwan.
You can get this weapon from the mail itself. It is sent to you when you complete all the mission challenges of Pieces of resistance crew challenge where you have to destroy the statues.
Talking about the weapon and what it does, the weapon has a really good base damage with a really high fire rate.
The real effect of the Embers purge comes from the name itself where when you constantly damage an enemy, there is chance to create a fire pole below the enemy. When you hit multiple enemies, the weapon has a chance to create multiple poles that's going to do a lot of damage to enemies. It does come with the elemental fire damage.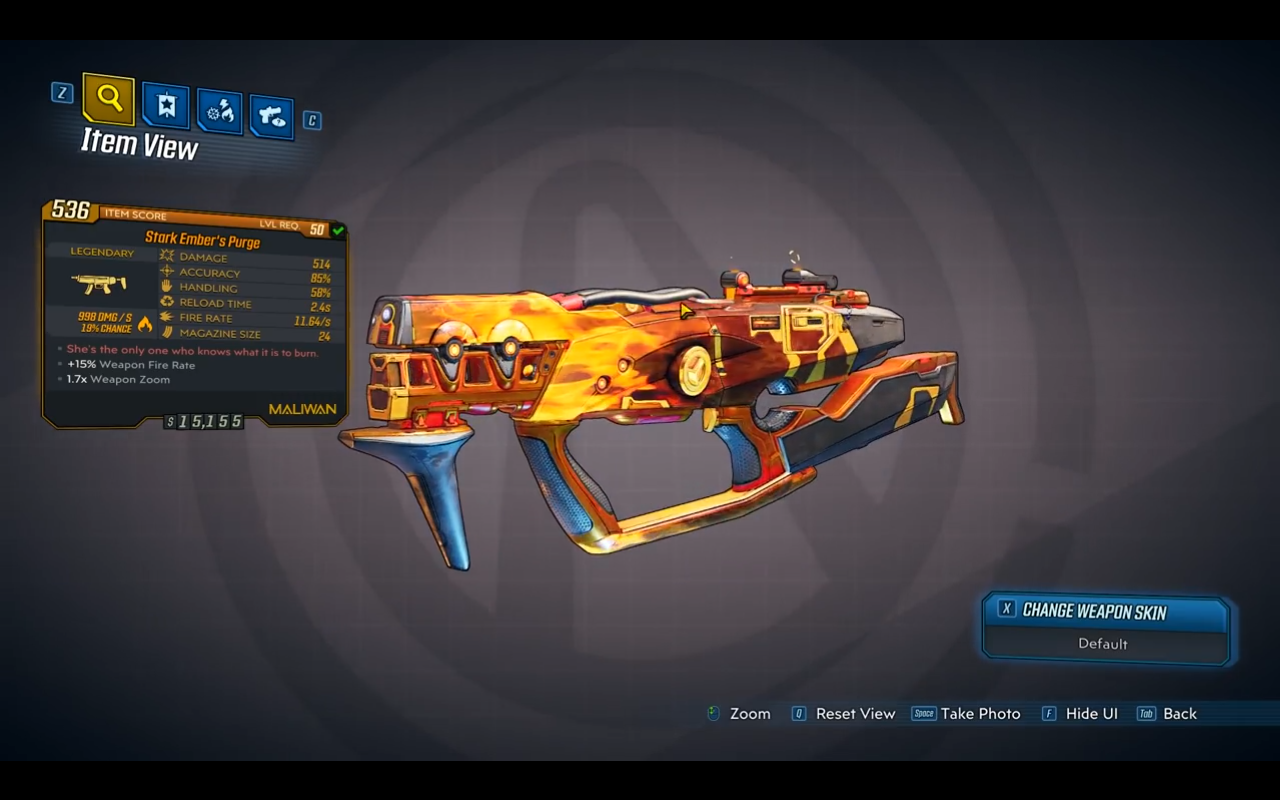 Red Text: She's is the only one who knows what it is to burn.
6. SCOVILLE
Scoville is a legendary pistol in Borderlands 3 manufactured by Torgue. Similar to the Embers Purge it obtained in mail by completing the Torgue Marketing Mistake challenge.
Once you get it, this weapon is really amazing. It has a really high damage being just a pistol. The special effect of this pistol is that it shoots out hot bottles of hot sauce explosives and it has a really high splash damage. However, it consumes 4 ammo per shot.
Red text: Put a little pepper on the end of it.
5. BOOMER
Boomer is a legendary submachine gun in Borderlands 3 manufactured by Dahl. In order to get this weapon, its very similar to the Lucky 7, it can drop from anywhere in the DLC and most probably in the final boss fight. It can also drop from ScrapTrap from where you can also get the LUCKY 7.
The Boomer comes with multiple firing modes with full auto or 5 rounds burst. The special effect of this weapon is that it shoots explosive bullets laced with hot sauce which does really good splash damage for a submachine gun.
Red Text : Some like it hot
4. ION LASER
The next one is also a sub machine gun called the ION LASER. ION LASER is a legendary submachine gun in Borderlands 3 manufactured by Maliwan. It has a higher chance to drop from the final boss but it can drop from any other places in the game.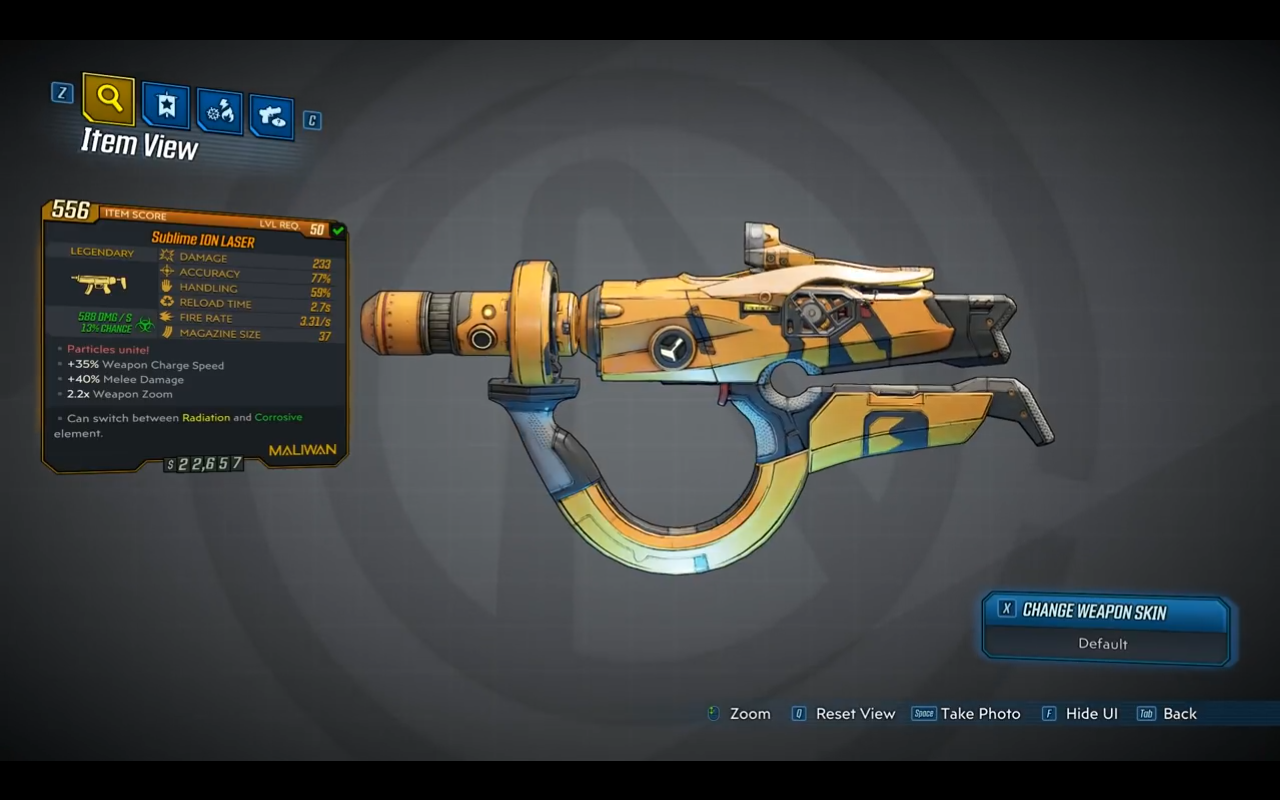 In terms of what Ion laser does is that it shoots a continuous beam and it has 2 firing modes. One does a full shock damage and the second one shoots a fire beam. The special effect of this weapon is that the longer you hold and shoot the weapon, it will spawn these orbs that also damages the enemy.
Ideally you can get another version of the Ion laser that can switch between shock and corrosive elemental damage. Overall, it's one of good picks sub machine guns in the game just because of that continuous beam.
Red text: Particles unite
3. AUTO AIME
The Auto Aime is a sniper rifle manufactured by DAHL. It can drop from almost any places in the DLC. However, it has a higher chances of dropping from the second the last boss fight that happens in the VIP TOWER.
The Special effect of the gun is that it automatically shoots out your bullets to your enemies thereby you have a very less chance of missing your shots.
Damage wise, it's good a decent damage output but otherwise its a good sniper rifle to get for yourself if want to just free fire enemies using sniper rifle and never miss any shots.
However, there are other sniper rifles that have way more damage than this one but if you are not a fan of using sniper rifles as a on hit kill gun then definitely get this one. It comes with various other elemental damage also.
2. CRAPS
Craps is a legendary pistol in Borderlands 3 manufactured by Torgue. Like any other weapon in the list, this pistol drops from anywhere in the Handsome Jackpot map. There is no specifics as to any final bosses that drops this gun however, you can get this weapon from the final boss too.
The craps has 2 weapon firing modes, one that will shoot out normal rockets and the second mode will shoot out sticky gyro jets. The special effects of the weapon is that the critical shots in the pistol have a chance to fully refill your magazine. The next special effect is that your weapon has a chance to fire a bunch of projectiles in a circle. It does have some splash damage and the overall damage of this pistol is pretty great.
Red Text : Oh me
1.CHEAP TIPS
The final weapon of the list is the Cheap Tips which is a legendary submachine gun in Borderlands 3 manufactured by Hyperion. It has high chance to drop from the final boss. However, it can drop from anywhere in the DLC.
The special effect of this weapon is really one of the unique ones in the game. Essentially, when you shoot with this submachine gun and damage an enemy, you get a 10% chance per shot to drop casino chips that gives you +10% weapon damage per chip collected for 12 seconds. This gives a really nice boost to your base damage of the weapon.
Red text: I'll get home early from work.
Conclusion
So, these were all of the top weapons in Boderlands 3 that are highly droppable. Hope you enjoyed reading this article. Let me know in the comments below which weapons were your favourite!.
Borderlands 3 SHIFT CODES & VIP CODES Expires 10 January, 2020
Back in Borderlands 2, we had the special crate in the city of Sanctuary that could only be opened using Golden Keys. However, you had limited amount of Golden Keys in the game and one way to get them was using shift codes.
The same feature is back in Boderlands 3 and it's become even better!.
In order to use a Borderlands 3 Shift Code, you have to go to the Shift Menu and enter it there. These codes will give you Golden Keys just like Boderlands 2 and you can use the keys to unlock Golden Chests that contains all the good stuff inside!!.
Caution: Some of These codes will expire very soon on the 10th of January, 2020 so grab as much as you can when the codes are fully working.
How to use your Golden Keys & Where?
Occasionally, if you are new to the game, you may not know what to do with the keys you just got from the Shift codes and what to do with it. To use the keys, go to the big golden chest in Sanctuary, near the fast travel point. Here's where to find it, and what it looks like: 
It will ask you for a golden key to unlock the chest. Use one of your golden keys and keep your fingers crossed and good luck with Legendaries 🙂
Here are some Borderlands 3 Shift Code that you can use for free Golden Chest keys right now. These are one-time use keys so it's better to use them when your level is high.
HXKBT-XJ6FR-WBRKJ-J3TTB-RSBHR (1 Golden Key)
ZFKJ3-TT6FF-KTFKT-T3JJT-JWX36 (1 Golden Key)
Z65B3-JCXX6-5JXW3-3B33J-9SWT6 (1 Golden Key)
9XCBT-WBXFR-5TRWJ-JJJ33-TX53Z (3 Golden Keys)
ZRWBJ-ST6XR-CBFKT-JT3J3-FRXJ5 (1 Golden Key)
ZFKJ3-TT3BB-JTBJT-T3JJT-JWX9H (3 Golden Keys)
CHKB3-FJT9J-SK3K5-T33JJ-95J56 (1 Golden Key)
You can also redeem Shift codes online from Gearbox's website, as long as you have same profile as the one on which you're playing Borderlands 3.
Here are some more SHIFT CODES FOR BORDERLANDS 3 Found on the Twitter Feed of Boderlands 3.
Borderlands 3 Christmas Shift codes
Here are some of the latest Boderlands 3 Shift CODES of the festive season that grants you new skins and weapons. The Shift codes below are active until 11:59 pm Pacific Time on January 10 so grab all of them if you can!.
W9WTT-FSFTZ-5WRZR-63BB3-WK6WT – Festive Echo Skin – Expires January 10
WSW33-HSFJ9-CWRZF-6J3B3-JF6BF – Legendary Assault Rifle – Expires January 10
KZC3B-33Z39-5CFSX-6BTJ3-RWFZF – Reinskag Echo Skin – Expires January 10
WS5J3-WTZJZ-WKRH6-RJ3TJ-JSZHC – Candy Cane Trinket – Expires January 10
CSKJB-6B9BZ-5K696-RBTB3-6FCBS – Festive Vestment Skin – Expires January 10
WH5JJ-ZBSBH-KK6H6-R3JT3-F6TCF – Snow Globe Echo Skin (Doesn't work on Epic) – Expires January 10
KSW3T-T59JS-CWF96-RBJ33-T3FCW – Snow Globe Echo Skin (Epic Store only) – Expires January 10
Limited time Borderlands 3 Shift codes
Many Boderlands 3 Shift Codes expire within a hour or day. But we have found some that expires very soon. Grab them now.
5BCBB-5SRS9-RTW9C-9JCJB-XK3X9 – 3 Golden Keys – Expres Dec. 26 at 10 am CDT
CSKT3-6F9HB-ZWJC5-BTBT3-JJFXC – 1 Golden Key – Expires Dec. 7 at 10am CST
CHKJ3-B6HHB-ZWBK5-3JJJT-CRHFJ – 1 Golden Key – Expires Nov. 22 at 10am CST
WZCTT-5CSZT-ZW3KW-333JT-69ZW6 – 1 Golden Key – Expires Nov. 19 at 10 am CST
CS53B-FBS9J-95TK5-BJTT3-KJKTJ – 1 Golden Key – Expires Nov. 11 at 10am CST
W95BB-3BZS3-ZCBWC-BJT3B-9BTKS – 1 Golden Key – Expires Nov. 9 at 10 am CST
5ZWTT-SZXZ3-SW3W5-33BTT-X5Z3H – 1 Golden Key – Expires Nov. 8 at 10 AM CST
K9W3T-BJZ59-B9SHB-6B3JT-T9CFF – 4 Halloween head cosmetics – Expires Nov. 5 at 2 AM CST
C9KBJ-6HXHT-9WJKW-BJ33B-SK95C – 1 Golden Key – Expires Nov. 4 at 10 AM CST
KB5JT-BFRZ9-XTWZ5-93KJB-3RRFT – 3 Golden Keys – Expires Nov. 4 at 10 AM CST
W9KBJ-95X9T-ZC3KW-BJTJT-5FF3T – 1 Golden Key – Expires Oct. 29 at 10 AM CST
CZWJJ-X6XHJ-9CJC5-JTT3J-WZ6WC – 1 Golden Key – Expires Oct. 28 at 10 AM CST
KZK3T-K6RSJ-ZWTCK-JTJ3T-T3HJJ – 1 Golden Key – Expires Oct. 27 at 10 AM CST
CHCBT-TF6HB-ZC3WC-BT333-KBR3B – 1 Golden Key – Expires Oct. 26 at 10 AM CST
Here are some more Shift Codes from SHiFT Codes Twitter Feed
SHiFT CODE (Classic) BORDERLANDS PRE-SEQUEL
5 GOLD KEYS EXP 06 JAN 2020 FACEBOOK
PC: WK53J-RKJRR-TKJ3T-3J33T-RRCFR
XB: WK53J-RKJJK-XRR3X-5R33T-RRC95
PS: WW5J3-3X3FZ-ZSB5J-HJKJB-6ZFZC
SHiFT CODE BORDERLANDS 3
5BCBB-5SRS9-RTW9C-9JCJB-XK3X9 (3 GOLD KEYS EXP 26 DEC 10A CDT)
CSKJB-6B9BZ-5K696-RBTB3-6FCBS (Festive Vestment Skin EXP 10 JAN 2020)
WS5J3-WTZJZ-WKRH6-RJ3TJ-JSZHC (CandyCane Trinket EXP 10 JAN 2020)
C3KTB-3SFSS-R3KSW-HJCB3-FH6CB (3 GOLD KEYS EXP 02 DEC 10A CDT)
5BC3B-9FFHZ-6TKHK-ZTKJT-ZWR9B (3 GOLD KEYS EXP 25 NOV 10A CDT )
CHKJ3-B6HHB-ZWBK5-3JJJT-CRHFJ (1 GOLD KEY EXPIRES 23H 22 NOV 10A CDT)
CZKJB-SWSSB-HKB55-33TJT-RXZ6R (1 GOLD KEY EXPIRES ~21H 21 NOV 2019 10A CDT)
KZKBJ-65H9B-SCJW5-BJBBT-ZRS9X (1 GOLD KEY EXPIRES ~14H 20 NOV 10A CDT)
VIP E-Mail Codes List
(10/18/19) 250 Points: YOUCOMPLETEME
(10/10/19) 250 Points: RARESPAWNHUNT
(10/5/19) 250 Points: EDEMONSTER
(9/25/19) 250 Points: ALLABOARD
(9/20/19) 250 Points: THEBORDERLANDSSHOW
(9/18/19) 1,000 Points: DONTFORGET
(9/17/19) 250 Points: JOYPUKE
(9/17/19) 250 Points: ALLBORDERLANDSALLDAY
(9/16/19) 500 Points: PS4MAYHEM
(9/15/19) 500 Points: 2KLOVE
(9/15/19) 250 Points: BL3ATE3
(9/15/19) 250 Points: BL3WELCOME
(9/15/19) 250 Points: BUILDURSQUAD
(9/15/19) 250 Points: CLAPTASTIC
(9/15/19) 250 Points: DASHERZ
(9/15/19) 250 Points: FIGHT4SANCTUARY
(9/15/19) 250 Points: FORTNITEXMAYHEM
(9/15/19) 250 Points: HEYSUGAR
(9/15/19) 250 Points: LESSTHANTHREE
(9/15/19) 250 Points: LOOTLOOTLOOT
(9/15/19) 250 Points: MYMAIN
(9/15/19) 250 Points: ONTHEHUNT
(9/15/19) 250 Points: OVERONEBILLION
(9/15/19) 250 Points: POWERUPEMAIL
(9/15/19) 250 Points: SOHAPPYTOGETHER
(9/15/19) 250 Points: FRESHBOOTY
(9/15/19) 250 Points: DUCTTAPEMOD
(9/15/19) 250 Points: ABCEASYAS123
(9/15/19) 250 Points: OVERCLOCKED
(9/15/19) 100 Points: BL3REVEAL
(9/14/19) 1,000 Points: OVERABILLION
(9/14/19) 1,000 Points: JABBER
(9/14/19) 1,000 Points: ITSHERE
(9/14/19) 1,000 Points: UNBLINKINGEYE
(9/14/19) 1,000 Points: ALMOSTTHERE
(9/14/19) 250 Points: MADSKILLZ
Vault Codes List
(10/25/19) 250 Points: BLOODYHARVEST
(10/18/19) 250 Points: SPOOKYSCARY
(10/16/19) 500 Points: CAOSENMGW
(10/16/19) 250 Points: IGNVIP
(10/16/19) 200 Points: WEGOTUBOO
(10/11/19) 250 Points: SPLODEOS
(10/4/19) 250 Points: RISENGRIND
(9/30/19) 500 Points: THEBORDERLANDSAREWILD
(9/27/19) 250 Points: MYCHILIRECIPE
(9/20/19) 250 Points: ITSBEEN
(9/15/19) 300 Points: JOYPUKE
(9/15/19) 250 Points: AIRLEMAGVIP
(9/15/19) 250 Points: DIGISTRUCT
(9/15/19) 250 Points: JVMVIP
(9/15/19) 250 Points: LOADINGBAR
(9/15/19) 250 Points: MAYHEM
(9/15/19) 250 Points: PWR2PLYRS
(9/15/19) 100 Points: MEDIAMARKTVIP
(9/15/19) 100 Points: NEDGAMEVIP
(9/15/19) 100 Points: PLAYERONEVIP
(9/15/19) 100 Points: ALLYOURGAMESVIP
(9/15/19) 100 Points: BOLVIP
(9/15/19) 100 Points: GAMEMANIAVIP
(9/15/19) 100 Points: GAMEVIP
(9/15/19) 100 Points: INTERTOYSVIP
(9/15/19) 100 Points: SMARTOYSVIP
(9/15/19) 100 Points: YOURGAMEZONEVIP
(9/14/19) 1,000 Points: CHILDRENOFTHEVAULT
(9/14/19) 500 Points: ITSABOUTTIME
(9/14/19) 100 Points: DREAMLANDVIP
Expired Codes
(9/15/19) 250 Points: SEVENDAYS
(9/14/19) 200 Points: LARALOFT-BL3LAUNCH
(9/14/19) 200 Points: BONJWA-BL3LAUNCH