How To Make Money As a Gamer? Make Money Playing Games On Your Couch
Making money playing video games can be a dream come true and for some it could be a life changing moment.
The question is that is it really possible to be able to play games and make money at the same time.
The answer is absolutely YES, YOU CAN!
The only problem is HOW which we will be discussing in this blog as your read further.
As a gamer, making money can be a tough thing to do. Especially in the beginning stages when you have just started out, it's seems almost impossible to make money while playing games.
However, the good news is that the possibility of making money while playing games and the career out of it is really bright. You just need to work a little harder, game a little more than you do and the journey can be a really bright one for you.
There are so many gamers who have made a fortune in the gaming industry. Pewdiepie as you all know is a great example of a popular gamer who is now a millionaire and has made a fortune in the gaming industry.
Another example is Ninja who now has around 22 million subscribers on YouTube and he makes money playing video games.
The question now arises that Pewdiepie and Ninja though maybe gamers but they are also YouTuber's. Similarly, many gamers on the web make a lot of money through YouTube. Does this mean that one has to be a YouTuber in order to make money through gaming?.
The answer is that it really does not matter because there are thousands of ways to make money through gaming. All you have to ask yourself is which way you want to choose. And when you decide how you are going to make money out of gaming, you have to stick to that method.
There are several gamers who make money by helping beginner gamers complete hard levels. They can charge anywhere between $20 to $80.
There are gamers who help other gamers become good at a particular game like CS:Go, MMORPG games like League of Legends, Dota 2 or even Fortnite. They can charge about $99 to $499 for a single gaming coach. Imagine if you could coach just 10 players, you could make about $999 to $4990 dollars.
The gaming industry is broad and if you are really serious about it then you should definitely start brain storming ideas and do some good research about the gaming industry.
In this guide, we have made a list of 5 methods by which you can make money playing video games. With these strategies you will get a good idea about how you can make money through gaming by the end of this blog.
1. Gaming Coach
A gaming coach to make money sounds like a really good idea and it is one of the best ways to make easy money through gaming. A gaming coach basically means that you are going to coach a beginner gamer in a certain game.
The game can be League of Legends, Dota 2, Call of Duty or any other game that requires skill or deep game knowledge.
It is actually FREE to start this business and all that is required is your social media profile and your twitch streaming accounts. However, you might want to consider investing in online marketing to get a coaching website where you can bring in clients and get paid. At the same time, you also need an extra hand in marketing in which you need to spend some money in order to promote yourself as a coach.
How to start?
Game coaching or tutoring is done through a gaming headset which allows the coach to communicate with the gamer who needs coaching. The communication process is fairly simple as you can just use Skype or Facebook free calls to call your gamer who needs coaching.
#1 – Get your portfolio ready – Before you even think of contacting clients, you need to have a set of portfolio showcasing your work as a coach. This basically means that you need to setup your YouTube channel, Twitch, Instagram, Facebook page and any other forms of social network apps where you can showcase your gaming talents and skills. This is a very important step as it helps you convince your clients to buy your coaching service. Clients before spending their money will definitely research about you and your skills therefore, having a good base will give you an upper hand in getting the deal. The best thing to do if you have zero videos is to just record your gameplays and upload them in social media.
#2 – Set your pricing – Pricing is another very important thing to be conscious of. In the beginning stages of your business, you need as much clients as possible. To get those clients quickly, you need to set a price that gives your enough profit and is affordable for the gamers as well. The reason is because when you first start, you need to start building up your client base which will directly help you build your base portfolio. It is those clients and their reviews who is going to help you get more clients. Therefore, pricing is a big factor in determining how fast you will grow. It is just better to charge less in the beginning unless if you already have a good fan base.
Best pricing to start with is an hourly based pricing between $10 to $40. This will make your services affordable for clients. #3- Get a website – Getting a website can be a little intimidating if you have no idea about how to create one. However, it is also very important to get a website to display your work and also accept customers and their payments. There are several things that a website can help you with for example, it can help you manage your customers, track the rate of sales per 1000 visitors and just build up something that allows you to coach fully online with ease. The limits are endless and the current tools and technologies today can easily help you get a website for your business.
Squarespace, Shopify are some of the website providers that can help you get a website which is easy to run and manage. There is not much coding involved and you can easily setup a website within a couple of hours because these website providers have built in site builders. However, if you do have some knowledge about building a site then you can always choose WordPress which is one of the best ways to build a website.
#4- Start promoting through ads – To make more money, you need to spend money and that's a rule that works 100% of the time. If you want results fast and get your coaching business rolling, you should definitely spend your money on ads. Facebook ads is one of the best and the cheapest options here as it is very easy to setup and you will also be able to target the right customers at the same time. Other promoting methods are Google ads, YouTube ads, Email marketing and there are so many other ways to promote your business. If you have less marketing capital then definitely consider word of mouth marketing where your first group of friends can be the starting point towards your business promotion.
#5- Be active on social media – Social media is the ultimate platform for free organic traffic to your business therefore, keep a goal to post at least once a day across your social media platforms. Instagram is huge and one of the best places to promote your business accompanied by Facebook pages where most of the people constantly engage themselves into the media environment.
#6 – Choose your payment gateways – Once you have your business setup online, you need a payment gateways to be able to accept payments online. This is a very easy step to do yet one of the most important steps as it allows you to collect money through your clients. Some of the payment gateways are Paypal, Patreon, Stripe.
2. Stream on Twitch
Twitch is a game streaming platform where viewers can watch other players play their games. Popular Twitch streamer Ninja made ~$10 million in 2018 from ads, sponsorships, and Twitch subscribers.
Now that's an exceptional success case where a gamers earns just too much money. However, statistics show that an average twitch streamer makes around $10,000 to $40,000 per year. That's still a fair amount of money especially when you are making those bucks playing games.
How to start
To get started making money on Twitch, you must become a Twitch Partner. To do that, you need to have:
At least 500 total minutes broadcast in the last 30 days.
At least 7 unique broadcast days in the last 30 days.
An average of 3 concurrent viewers or more over the last 30 days.
At least 50 Followers.
Once you become a Twitch Partner, you can start earning money through ads. You can also get sponsorships through different companies and get paid through sponsor promotions.
If you already have a camera and a Laptop then your early investment can be $0. Unless if you want better sound quality, you can invest around $40 to $100 to get a good microphone. Otherwise, your early investment is going to be nil.
You can invest the rest of the money into making your Twitch Channel and brand look more attractive. This involves getting a new Logo for your twitch channel, investing in a gaming intro and so much more.
You can get all of those services for a very cheap price on Fiverr.com which is a website where you can get logo designers, video editors, video animators, graphic designer for around $10 to $100 depending upon your project and demands. A cheap logo design will cost you as low as $5 -$10 USD and video intro for your channel can cost you around $10 to $40 on fiverr.com.
Some of the marketing strategies that could be helpful is YouTube ads and Facebook ads. These two are the best platforms to promote your Twitch channel at a very less price. For $100 you can reach upto 100,000 people on Facebook and with YouTube ads, depending upon the cost per view, for $100 you can get about 10,000 to 50,000 views on your Twitch channel.
The idea for spending money on Youtube and Facebook ads is not to make money but instead to gain more followers and subscribers on YouTube as well as Twitch. So if you spend $100 on Facebook ads and get 100,000 – 1,000,000 views depending upon how viral the video goes, you can easily gain 1000 – 10,000 subscribers who are going to be the building blocks of your twitch channel in the future.
The next steps are fairly simple, you just need to post regularly and stream regularly.
3. Play and compete on Tournaments
Although this may not be a constant source of income for you, however, you can definitely give it a try and its a great way to earn extra cash. If you live in a city or near a city like New York, California, London, Toronto, Tokyo, there are surely hundreds of tournaments going on right now. One of the world's top e-sports competitor, Timothy Miller (aka "Bizzle"), earns around $322k per year participating in Fortnite tournaments.
This is probably the easiest way to make money playing video games however, it is not a constant source of income unless if you constantly win and if you are good at a particular game.
4. Get Signed on an eSports Team
Another good way to earn money is through an eSports Team. Esports players earn an average of $1,000 to $5,000 per month — or about $60,000 per year.
Dota 2 being at the highest position to pay players. Other top games include Counter-Strike, League of Legends, StarCraft, Call of Duty.
However, you don't have to be a player to make money in eSports. There are multiple other career paths, such as:
Hosting esports events
Coaching other online players
Streaming and commentating on esports matches
Acting as a referee
Sales and marketing specialist
Social media manager for a team or game producer
Etc.
5. Farm/Trade In-Game Currency/ Items
This definitely sounds like a good idea and if you are a die hard gamer, who spends most of his time gaming then this option is a really attractive one. There are many Free to play games online like Dota 2, Call of Duty mobile, Counter-Strike GO, PUBG. In fact these are some of the top games where you can earn serious money.
In Dota 2, some of the items like Anti-Mage Basher has a price tag of about $1000 and many other items cost around between $1 – $500 depending upon the rarity and item drop rate.
Even in CS:GO many items have a real high price value and that's not the end yet. You can also farm in Game currency and trade those for some rare items that you can sell in the market.
These are some of the most expensive items on CSGO:
AWP | Dragon Lore – $1555.
M4A4 | Howl – $1079.
AWP | Medusa – $862.
Karambit | Case Hardened – $258.
AK-47 | Fire Serpent – $197.
M9 Bayonet | Crimson Web – $193.
AK-47 | The Empress – $63.
P90 | Emerald Dragon – $28.
Some of the most expensive items on PUBG:
Black School Uniform Set (Female)
Sell for $1,540 | Buy for $366
PLAYERUNKNOWN Set
Sell for $1,349 | Buy for $1,001
Ivory School Uniform Set (Female)
Sell for $701 | Buy for $502
PLAYERUNKNOWN's Bandana
Sell for $610 | Buy for $575
Tuxedo Set (Female)
Sell for $490 | Buy for $240
PLAYERUNKNOWN'S Trenchcoat
Sell for $458 | Buy for $376
Blue School Uniform Set (Female)
Sell for $402 | Buy for $249
School Skirt
Sell for $400 | Buy for $380
Protective Glasses
Sell for $320 | Buy for $126
Pleated Mini-skirt (Blue)
Sell for $224 | Buy for $243
As you can see there are so many valuable items in the market and the good news is that there are online platforms where you can sell these items for real cash apart from the Steam Community Market.
Conclusion
There are so many other ways to make money through gaming. For example, you can also sell gaming merchandise online, you can make money through blogging or just uploading videos on YouTube. However, the methods of making money given above is strictly for those who are just serious about gaming and playing video games and who want to leverage their time spend on playing games into making real cash. If you venture outward and start going towards, YouTube
Borderlands 3 – Top 10 DLC 1 Legendary Weapon Locations Highly Droppable (MUST GO & TRY)
Boderlands 3 is one of the best games ever create. Whether you are a First Person Shooter or not!, Boderlands 3 is going to get you hooked because the game is just so much fun to play.
Thanks to our friend TwoDynamic The weapon locations in the game are clearly stated in his channel and we have taken the list from his selections.
The new Boderlands 3 DLC 1 has just been released and here's what you can get in the DLC. In terms of legendary weapons, here are some of the top 10 DLC 1 weapons.
10. LUCKY 7
The first weapon that you can get is the Lucky 7. It's a legendary pistol which is manufactured by Jacobs. After using it for some time, there is no doubt that this weapon is one of the best weapons in the game.
To get this weapon, you have to get it from a boss fight with the Scraptrap Prime in the Compactor region in the Handsome Jackpot. In terms of drop rate, you can get this weapon very easily on the first go however, sometimes you might need to defeat the boss a second time but you will definitely get it on your second try.
The boss fight with Scraptrap Prime is very easy and it shouldn't be very difficult for you to defeat the boss. The weapon should drop from the boss and once you see it you can pick it up.
Now let's talk about what the weapon does.
The Lucky 7 is a legendary pistol that has 13 rounds of bullet per reload. It looks like a normal pistol without any effect but here's the unique thing about the pistol. The pistol as the name suggests works like a slot machine.
This means that it has five bonuses and each one is different. Each time you reload, it will load a random different bonus with a thrash symbol that represents no bonus. The bonus will pop up for a second on the screen so you have to be quick to see which one you got.
Three bullets : If you get this one, it will make your pistol full auto.
Head symbol : It will give your gun a critical damage to any part of the body.
Nuke symbol : If you get this symbol, it will make your weapon have explosives an all rounds.
Fire, shock symbol: It will give your weapon, all the elemental damage.
7 symbol: It will give your weapon, 7 bullets per shot that can be really powerful.
However, when you roll a thrash symbol which means no bonus, the weapon is not powerful at all. But I think that's the best thing about the pistol as it makes the weapon really fun and unique and if you do manage to roll a full house, it does a lot of damage.
Red Text : O Fortuna
Overall it's fun to play with this weapon and it's amazing and it's got amazing stats. It definitely worth farming this legendary pistol.
9. ION CANNON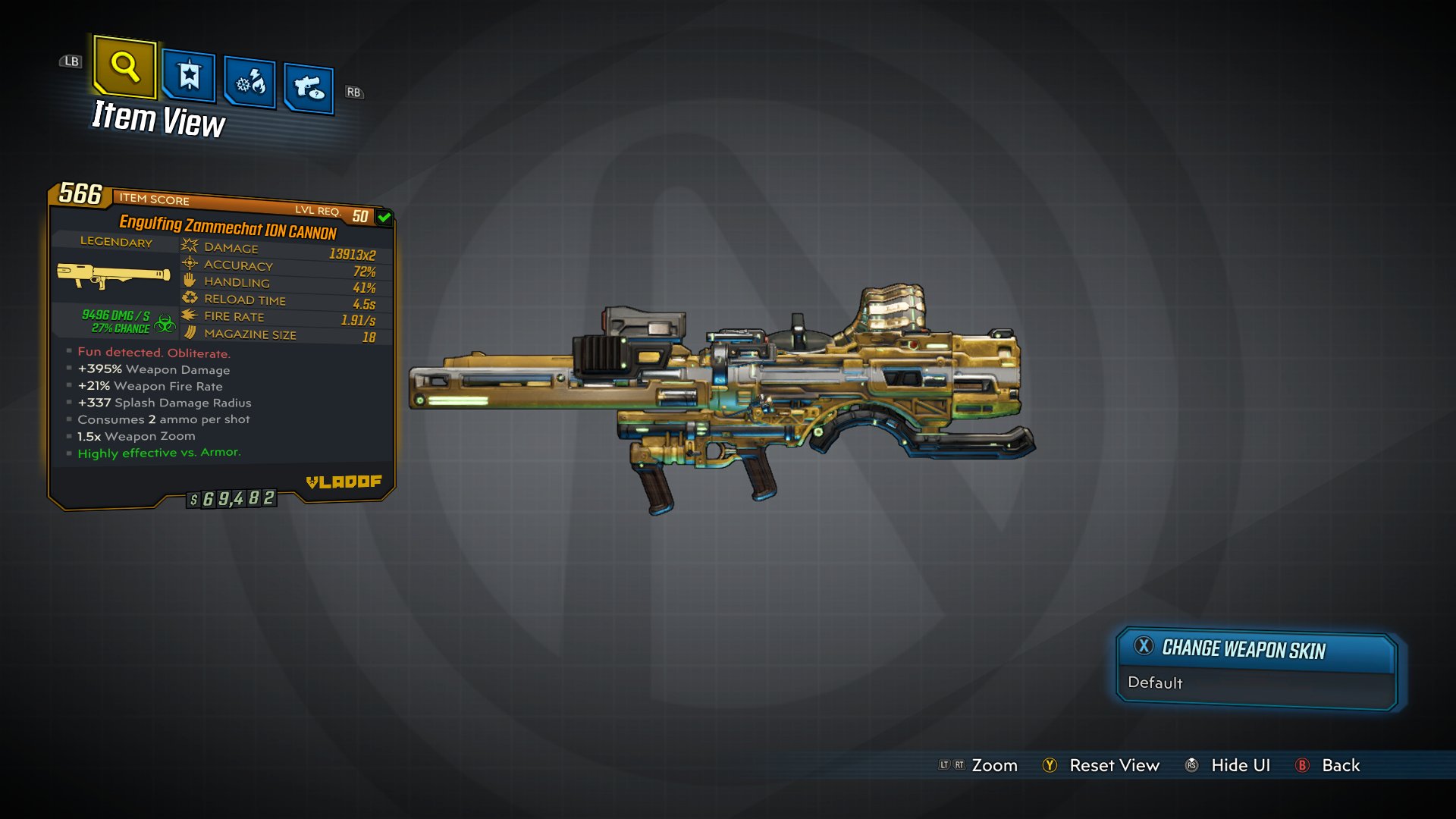 The next weapon on the list is the Ion Cannon. It is a rocket launcher that is manufactured by Vladof. This weapon would drop from a boss fight with Fabricator Mk II who is located in the Jack's secret in the Handsome Jackpot.
The drop rate of the Ion cannon is really high and this is in game story mission so you will definitely come across this weapon in the game.
The weapon consumes 2 ammo per shot. The weapon has a seriously high base damage of upto 500% which is seen in the weapon description. The specialty of this weapon is that it's got a really high accuracy for a rocket launcher. Most rocket launchers have high damage but it's really hard to aim and shoot.
Whereas this rocket launcher shoots like a beam and it also has a charge time and you can easily on hit kill mobs with this weapon. It works like a sniper rifle and even if you are very far away from an enemy, you will have no problem killing them.
There is also a 2X variant of this ion cannon which is quite rare to find but if you can manage to get it, you got the best rocket launcher in the game.
Red Text: Fun detected, Obliterate
Over all this weapon is a must have in your weapon arsenal and it if you need a launcher, it's this one.
8. NUKEM
Taking about rocket launcher, the next deadly one is the Nukem. It is a legendary rocket launcher manufactured by Torgue. It is a returning rocket launcher from Boderlands 2.
In terms of where you can find this weapon, you can get the Nukem from pretty much anywhere in Boderlands 3. Especially from the boss Loco Chantelle in VIP tower.
The speciality of this weapon is that it has some really amazing splash damage. It basically shoots motor rockets that end with huge explosion similar to how a nuclear explosion takes place. Given that this weapon has insane splash damage, you can easily damage multiple enemies with on hit.
However, it isn't as powerful as the Ion cannon but the Nukem is one of the good rocket launchers in the game to kill multiple mobs at one go.
As you can see from the stats, its got a whooping 1200 splash damage which is really.
Red Text: Name Dropper
Overall, the weapon is a really good pick if you are entering areas where you will find lots of mobs to deal with and it is a very good launcher to keep in your arsenal until you get the Ion Cannon.
7. Embers Purge
Ember's Purge is a legendary submachine gun in Borderlands 3 manufactured by Maliwan.
You can get this weapon from the mail itself. It is sent to you when you complete all the mission challenges of Pieces of resistance crew challenge where you have to destroy the statues.
Talking about the weapon and what it does, the weapon has a really good base damage with a really high fire rate.
The real effect of the Embers purge comes from the name itself where when you constantly damage an enemy, there is chance to create a fire pole below the enemy. When you hit multiple enemies, the weapon has a chance to create multiple poles that's going to do a lot of damage to enemies. It does come with the elemental fire damage.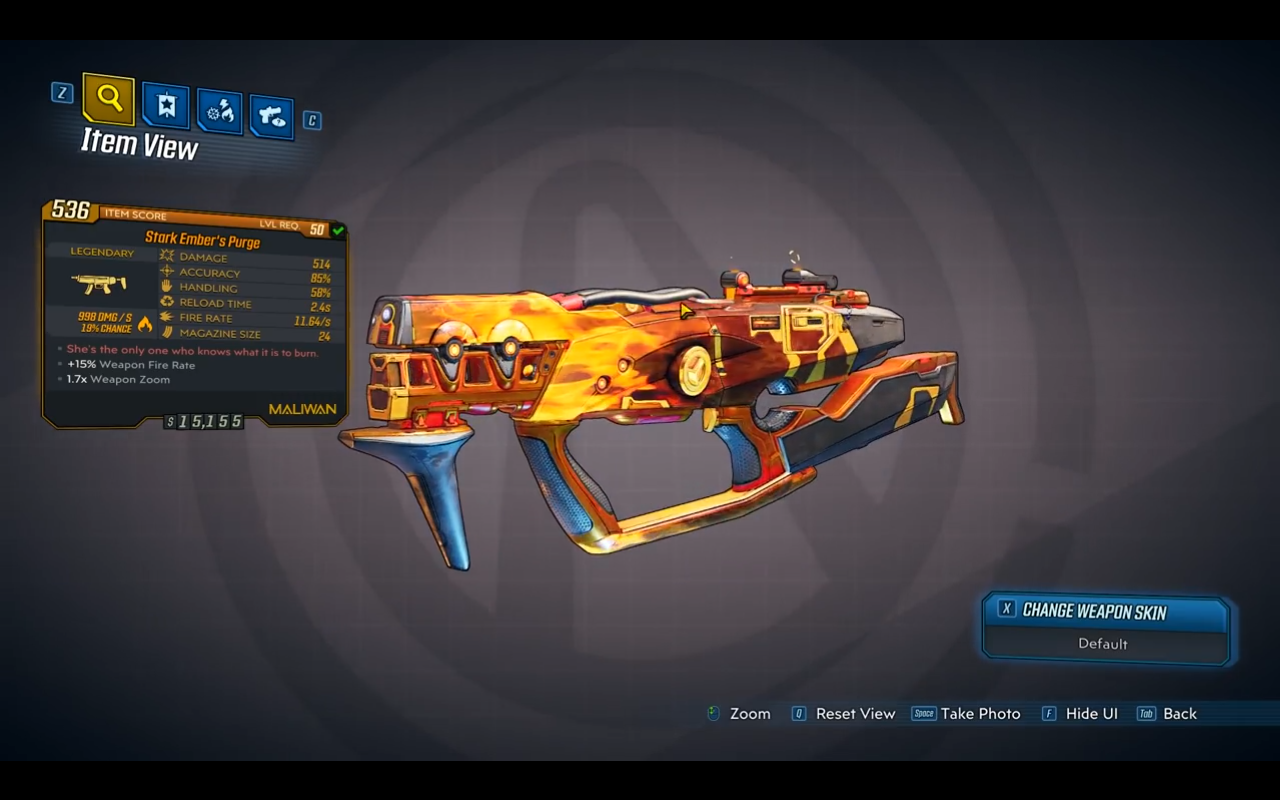 Red Text: She's is the only one who knows what it is to burn.
6. SCOVILLE
Scoville is a legendary pistol in Borderlands 3 manufactured by Torgue. Similar to the Embers Purge it obtained in mail by completing the Torgue Marketing Mistake challenge.
Once you get it, this weapon is really amazing. It has a really high damage being just a pistol. The special effect of this pistol is that it shoots out hot bottles of hot sauce explosives and it has a really high splash damage. However, it consumes 4 ammo per shot.
Red text: Put a little pepper on the end of it.
5. BOOMER
Boomer is a legendary submachine gun in Borderlands 3 manufactured by Dahl. In order to get this weapon, its very similar to the Lucky 7, it can drop from anywhere in the DLC and most probably in the final boss fight. It can also drop from ScrapTrap from where you can also get the LUCKY 7.
The Boomer comes with multiple firing modes with full auto or 5 rounds burst. The special effect of this weapon is that it shoots explosive bullets laced with hot sauce which does really good splash damage for a submachine gun.
Red Text : Some like it hot
4. ION LASER
The next one is also a sub machine gun called the ION LASER. ION LASER is a legendary submachine gun in Borderlands 3 manufactured by Maliwan. It has a higher chance to drop from the final boss but it can drop from any other places in the game.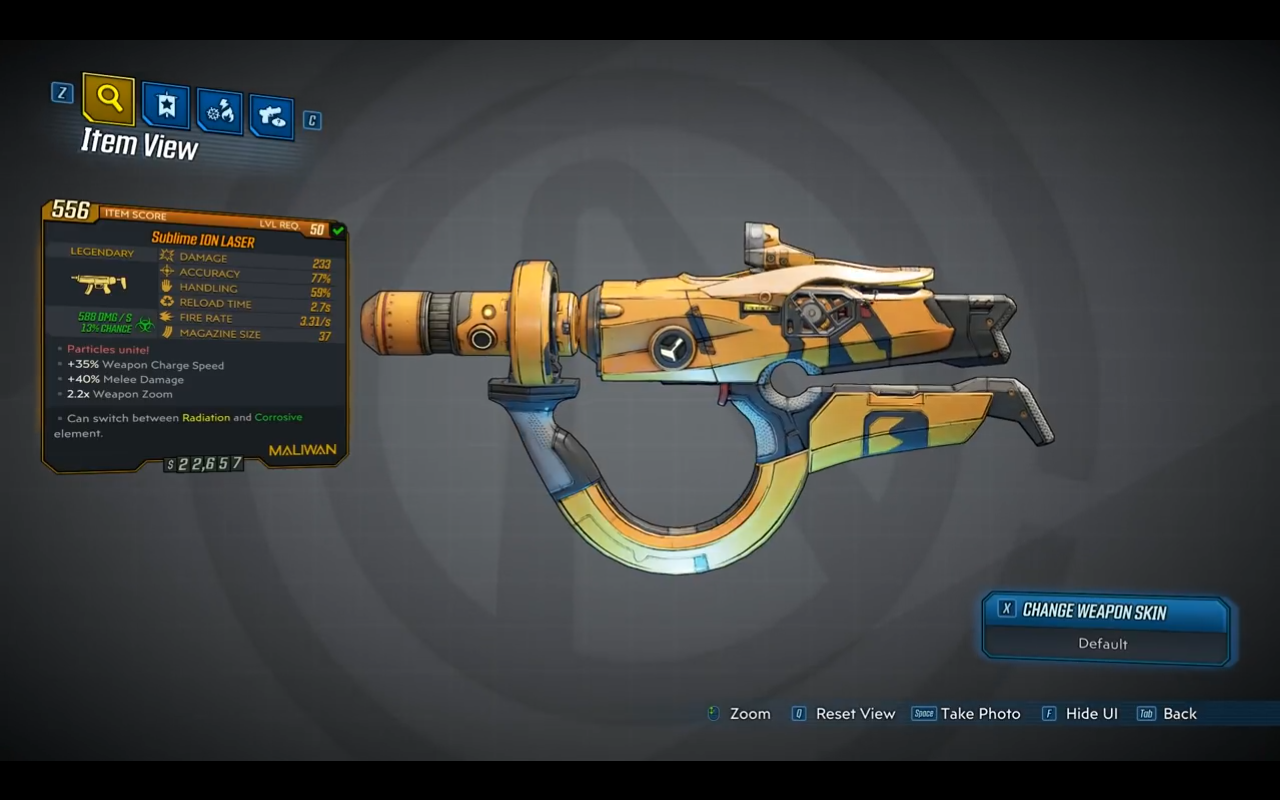 In terms of what Ion laser does is that it shoots a continuous beam and it has 2 firing modes. One does a full shock damage and the second one shoots a fire beam. The special effect of this weapon is that the longer you hold and shoot the weapon, it will spawn these orbs that also damages the enemy.
Ideally you can get another version of the Ion laser that can switch between shock and corrosive elemental damage. Overall, it's one of good picks sub machine guns in the game just because of that continuous beam.
Red text: Particles unite
3. AUTO AIME
The Auto Aime is a sniper rifle manufactured by DAHL. It can drop from almost any places in the DLC. However, it has a higher chances of dropping from the second the last boss fight that happens in the VIP TOWER.
The Special effect of the gun is that it automatically shoots out your bullets to your enemies thereby you have a very less chance of missing your shots.
Damage wise, it's good a decent damage output but otherwise its a good sniper rifle to get for yourself if want to just free fire enemies using sniper rifle and never miss any shots.
However, there are other sniper rifles that have way more damage than this one but if you are not a fan of using sniper rifles as a on hit kill gun then definitely get this one. It comes with various other elemental damage also.
2. CRAPS
Craps is a legendary pistol in Borderlands 3 manufactured by Torgue. Like any other weapon in the list, this pistol drops from anywhere in the Handsome Jackpot map. There is no specifics as to any final bosses that drops this gun however, you can get this weapon from the final boss too.
The craps has 2 weapon firing modes, one that will shoot out normal rockets and the second mode will shoot out sticky gyro jets. The special effects of the weapon is that the critical shots in the pistol have a chance to fully refill your magazine. The next special effect is that your weapon has a chance to fire a bunch of projectiles in a circle. It does have some splash damage and the overall damage of this pistol is pretty great.
Red Text : Oh me
1.CHEAP TIPS
The final weapon of the list is the Cheap Tips which is a legendary submachine gun in Borderlands 3 manufactured by Hyperion. It has high chance to drop from the final boss. However, it can drop from anywhere in the DLC.
The special effect of this weapon is really one of the unique ones in the game. Essentially, when you shoot with this submachine gun and damage an enemy, you get a 10% chance per shot to drop casino chips that gives you +10% weapon damage per chip collected for 12 seconds. This gives a really nice boost to your base damage of the weapon.
Red text: I'll get home early from work.
Conclusion
So, these were all of the top weapons in Boderlands 3 that are highly droppable. Hope you enjoyed reading this article. Let me know in the comments below which weapons were your favourite!.
Top Apex legends Tips and Tricks
It's understandable if you haven't heard about this Battle Royale game yet. It was never hyped before it was released on February 2019. This game is a squad-based battle Royale game that takes place in the Titanifall universe. The last squad standing from the 3 squads becomes the winner. I want to show you some of the tips and tricks you can use to make sure you have the ultimate fun when playing this game with your pals or randomly selected players.  I understand you have work and commitments so you don't have the time to train hard and become as good as the pros. I hope the following tips are going to help you up your game and if you are a beginner they will give you some clues on what you should expect from this awesome game.
Landing and looting tip.
If you have played battle Royale, then the landing and looting systems are more of the same. The only difference is the nuances.
You don't have to lead the drop.
The third person who picks the legend is given the jumpmaster. If you feel like that won't be fun for you, you can just give up the position by hitting the button when it's counting down before you start selecting characters.
Consider landing as far as possible.
This is very perfect especially as a beginner. Getting direct into action might not the best idea if you are still not very good at playing this game. Landing far from the other two squads will give you time to look over loot and learn what they do.
Supply ship.
Don't forget to supply ship when you are dropping onto king's Canyon. In case you are a beginner or you just don't know where you can find your ship, there is an icon on your map that you use to supply your ship. The ships are high tiers of loot so you should be prepared for a fight. During the fight just make sure you pick a high tier weapon and get out of the ship ASAP.
You are not the only one who can land ship so be read for a face off at any time. If things get too hot I think the best thing to do will be jumping out of the ship. That's what I mostly I do. Am not a pro but I have my moments.
Staying close to your teammates when you land is wise, but staying too close, not so much. When I am landing in an area that does not have enough buildings I try to veer off towards the building to make sure that my team is not fighting over the same loot. The ammunition is usually not in plenty so having different types of weapons is be a good idea.
Listen and earn to ping.
The legends usually give callouts if any of the characters spot an enemy but you don't ping. This is even more if your legend is being short at so make sure that you know how to ping. Knowing how to ping will help your team convey info without necessarily using a microphone. Ping is very useful in looting your enemies, declining an action, and sometimes you can use ping to loot a specific area. Always make sure to double-tap anywhere to mark your enemy.
Be aware of where you are aiming and make sure it is in the direction of potential threats.
It is normal and natural to point your weapon to the direction you are planning to go but being focused on where you are going and forgetting about other directions, might leave you exposed to certain threats. Shoot from the hip and don't be afraid about it. Hip fire in this game is way more accurate compared to other games. I always use hip fire especially when I don't have a close-range weapons.
Communication is the key.
If you want your team to be the last standing, then you have to make sure you are a good team player. It doesn't matter if you are playing with your friends or with random selected strangers. The basic rule that I always use is that you should share your loot with the team mates. Be a good teammate and drop some ammo to your teammate if you have more and your friend is running out. As we already established, you can use ping to communicate with your teammates but if you still don't know how to listen to ping, then make the maximum use of the microphones.
If you find yourself being paired with an abusive player just mute him and use the non-verbal ping system and have hope that he will cooperate. Sometimes silence speaks louder than words.
Know your legend.
Sounds obvious right? That's what I thought at the first time. Until I came to find out that knowing your legend is super important if you want your team to be the last standing. Each legend in apex legends has a passive, tactical and ultimate ability. There is only choosing one legend on a team, no duplicates. So you should always make sure you know about the abilities of each and every legend before you can form a team.
You should keep it in mind that you are going to "die" many times.
Each game starts with up to 60 players and from all those players only a team of 3 can win. If you are on the internet looking for tips and tricks for apex legends then there is a probability you are not a pro. And if you are good, there still some players who are better than you. Take your time and learn from your mistakes. Each time you die, take it as a lesson.